Moving Letter from Nawal Benaissa, The Voice of the RIF protests
Protests have been shaking the Rif region of Morocco since the gruesome death of a fishmonger in October 2016. What began as a spontaneous movement calling for a serious inquiry into the tragedy has turned into one of the longest protest movements in the region since the Arab Spring. People have since been protesting government corruption, unemployment and the dire economic situation of their region. Many leaders of the the protest movement have been in jail since last May.
Nawal Benaissa, considered the spokesperson of the Rif protests, wrote this moving letter to the world, in which she talks about the reasons for her struggle in a region of Morocco affected by mass unemployment and a rise in cancer.
I am married and I am the mother of four children.

I was born, I grew up on this land of the Rif. This land crushed by corruption, marginalization and injustice. I participated in all peaceful protests because I claim my rights, and the rights of the Rif to health, education and work.
I love this generous land and I love its people, whether they be Rifans or not. I learned from my father, a modest and impoverished man, to wish good for all, to help everyone. And these are the traditions of the Rifans.

I claim simple rights, totally non-existent in the Rif. The Rif is crushed by cancer. Here, in every family, you encounter not one case, but many cases of cancer. This is the consequence of the use of toxic gas by the Spanish army in its war against the local resistance.

The Rif is decimated by cancer and marginalization. We do not have hospitals capable of treating all these varieties of cancers. In my home, so as to bring them closer to care, I have lodged many victims of this scourge who come from distant mountains. Landlocked mountainous areas, devoid of roads and held out of the world by poverty and destitution. Women crushed by cancer, poverty, which subsist only through the charity of good souls. This is the reality of the Rif, crushed in all its human rights.
I protest for justice. I protest for my rights and those of my children. I protest so that we can have a hospital capable of taking care of all the sick. I protest, because I have seen the tears of helplessness of cancer patients left behind here at the Rif.
I protest for all the families who cannot provide bread for their children, because here there is no work, no workshops, no factories.

I protest because I want the best for my homeland. This best is built with education and we do not even have a university, so we're forced to cut our paths prematurely.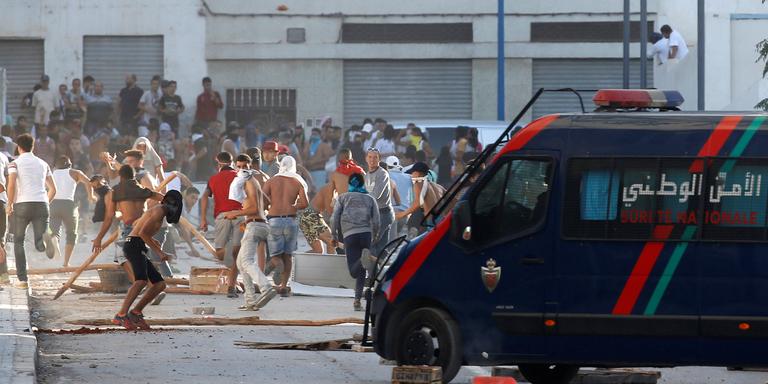 For all this I protest. I am not afraid and I will not hide, as I am asked. My protest is peaceful and it is my absolute right. I will not hide, even if this should lead me to prison.
I beg your pardon my beloved mother, my beloved father, my dear children, all those who love me, for the pain I may cause you, but I will not bury myself like a mouse.

I protest peacefully for a just cause and if I end up in prison, as is the case of many, I know that we have a God who knows what is in our hearts and will not forsake us.

I protest for the dreams of all the children of the Rif, for the mothers of the Rif who hope for change, dream of a dignified life as they never cease to chant in the streets: Freedom ! Dignity ! Social justice !

I love you my children. I protest peacefully for the crushed rights of the Rif and I will persevere until my last breath. I will not hide myself.

Translated from Nawal Benaissa's letter in Arabic