This Muslim Mom of 4 is Pennsylvania Hospital's First Female Neurosurgeon
Dr. Zarina Ali is the first female neurosurgeon at Pennsylvania Hospital in Center City. She found medicine as her calling at a young age—something she realized as early as first grade while doing a school project on Elizabeth Blackwell, the first woman in the United States to earn a medical degree. Little did she know that decades later, she would be making history as well, by becoming the first female neurosurgeon in Pennsylvania Hospital's 266-year history.
While medicine was a calling, neurosurgery, however, was an interest she developed much later, largely as a result of seeking out and engaging with several great mentors. Now, a mentor to many residents and students herself, Dr. Ali is "paying it forward" to encourage aspiring neurosurgeons to pursue the field she loves so much.
According to American Board of Neurological Surgery statistics, in the United States there are only 219 board-certified female neurosurgeons, 25 full-time female academic neurosurgeons, and only one female chair of a neurosurgery department. Ali, herself, was one of at most three female doctors in her neurosurgery residency at the Hospital of the University of Pennsylvania - with no female mentors to guide them.
Now as an assistant professor of neurosurgery at the hospital, many young female medical students have turned to Ali, 34, for mentorship advice as they confront concerns about a career in neurosurgery, including the demanding work hours, a long training commitment, and worry about having time to start a family.
FROM THE O.R. TO MOTHERHOOD
Ali knows from experience what that juggling act looks like. Married between college and medical school in May 2004, she gave birth to her first son at the end of her postgraduate Year Three training in June 2012. Two years later, in November 2014, she had surprise identical twins. Last year she was blessed with a fourth child.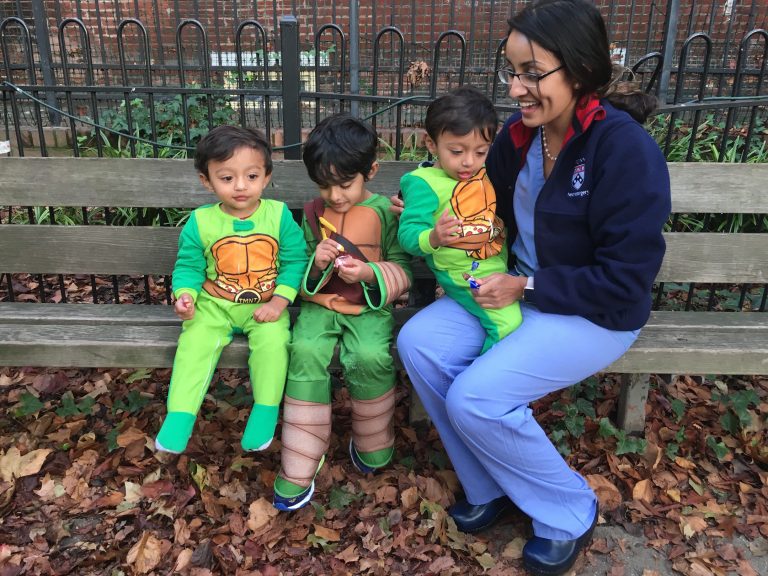 "It is very dynamic process. I recognize it needs to be fluid to do what I want to do in my life, both work and personal," she said.
What that means for Ali is that there are times when she is more focused on being a mom, like when her twins were in the neonatal intensive care unit for three months after being born with complications of prematurity. Other times, she concentrates more on her career development. As a neurosurgeon, Ali specializes in intracranial brain tumors, degenerative spine surgery, peripheral nerve surgery, entrapment neuropathy, brain trauma, and spinal stenosis.
For her, balancing work and family life is all about strategic planning. Both times she gave birth she was scheduled to be working on research so she was protected from clinical responsibilities and didn't have to worry about long hours in the operating room as she was adjusting to motherhood.
She admits though that balancing kids and career really takes a village. Her husband is very involved with their children and they have a full-time nanny.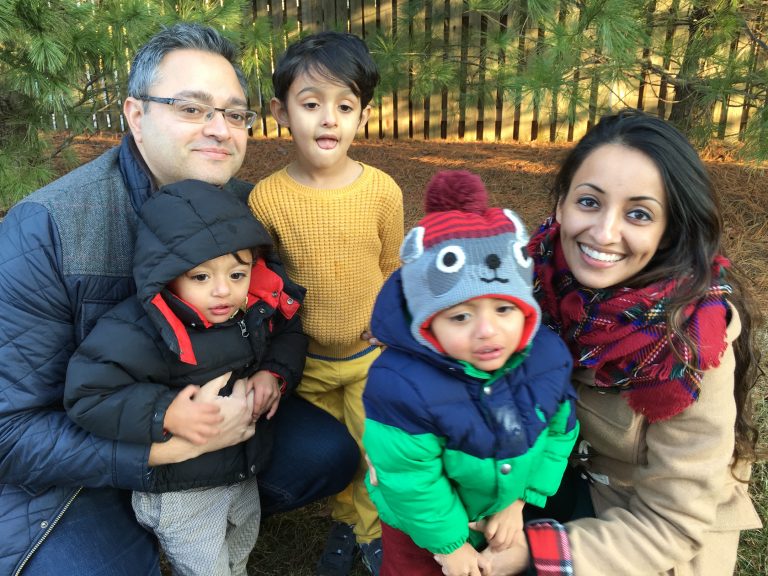 "I knew working 80 hours a week as a resident I couldn't be the primary caretaker of my children," she said. "I knew I needed a lot of resources to help. Life throws a lot of curveballs and there are a lot of things we can't control. You need to have the foresight to plan ahead for unexpected sick days and snow days, for example."
"Sometimes I feel like I am running a mini corporation just to take care of my kids, but I still know what my kids had for breakfast yesterday even if I wasn't there," she added. "It doesn't make me less of a mother."
In actuality, Ali feels like she has learned so much from her kids that they have helped shape the doctor she has become.
"My children have taught me resilience and perseverance," she said. "My personal life has helped me to understand and appreciate my patients in a different way than when I started my training."
In a lot of ways, she said her training in neurosurgery and those long hours in the OR also helped prepare her for motherhood. Lack of sleep? Been there. Done that.
AN UNEXPECTED PATH
Ironically, despite her passion for it now, Ali didn't always see herself becoming a neurosurgeon. Growing up in Staten Island, New York with a mother and father in medicine, she knew she wanted to follow their footsteps, but had never really considered neurosurgery.
As an undergraduate at the University of Rochester she studied neuroscience and went on to complete a master's degree in neurobiology and anatomy. In the beginning, she was more interested in the medical research side of things.
"I worked with a neurologist doing experiments to understand visual-spatial processing in rhesus monkeys in undergrad," she explained.
It was in medical school at Rochester that she was able to see neurosurgeons treating brain tumors in action under the mentorship of Dr. George Edward Vates, an experience she found "extremely gratifying and rewarding."
Still though, she didn't see herself as a neurosurgeon. It wasn't until a college friend in the same medical program said he was interested in neurosurgery that Ali truly gave serious thought to the idea.
"I thought why not? If it was feasible for him, why not possible for me?"
After medical school, she came to Philadelphia for seven years of neurosurgical residency in the Perelman School of Medicine at the University of Pennsylvania, and completed a peripheral nerve surgical fellowship with Dr. Eric Zager, a neurosurgical professor in academic excellence and attending physician at the Hospital of the University of Pennsylvania, Children's Hospital of Philadelphia and Pennsylvania Hospital. She learned the specialty is demanding, requiring mental, emotional and physical stamina to take care of the sickest people with complicated disease processes. Not to mention the long years of education and training.
A DESIRE TO MENTOR
Through her mentorships with Zager and others, like Dr. M. Sean Grady, the Charles Harrison Frazier professor of neurosurgery at Penn, Ali really got to understand and appreciate the emotional toll of dealing with patients and their families, especially those with poorer outcomes. And while she appreciated all the support of her male mentors, she wished there had been female mentors to guide her as well. Instead, she had to seek out female mentors in the professional world.
"I don't think I was necessarily hurt by lack of female mentorship but I do feel strongly about wanting to pay it forward by acting as a mentor myself," she explained.
Ultimately, Ali said, "If you want to be a female neurosurgeon, first focus on being a neurosurgeon. Then you need to work hard and be the best neurosurgeon you can be. Don't let those seeming limitations keep you from your goal. You just need to find the strategies to get you there."
Her biggest advice is to be open-minded to the possibilities, but be realistic about limitations.
"It is a zero sum game," she said. "We all have 24 hours in a day. One can only do the best you can."